Recent Posts
Before we answer if it is okay for the grain bucket to be empty, let us go over the importance of starter intake for pre-weaned calves. Pre-weaned dairy calves need starter grain to initiate rumen development. Bacteria in the rumen begin to utilize nutrients from the starter grain and produce volatile fatty acids that assist with rumen development and feed intakes. To maximize starter grain consumption, it is essential to understand how much calves will eat and what factors might impede consumption of starter grain.
Read More
Topics: ANIMAL NUTRITION
Colder weather has descended on many parts of the U.S. dairy country, and that means we need to pay increased attention to the impact of cold stress on young dairy calves raised outside. Calves less than 3 weeks of age are most susceptible to cold stress because they are born with very little body fat reserves to draw upon and do not consume very much calf starter at this young age. These young calves must rely on the energy being provided by the liquid diet they are consuming to meet their energy requirements for maintenance (basic body functions such as digestion, immune function, and nutrient metabolism) and for growth.
Read More
Topics: ANIMAL NUTRITION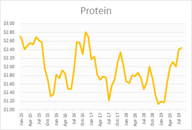 Milk and Milk Protein prices are going up, with prices projected to hit a four-year high. Now, more than ever, is the time to feed Energy Booster™ products to capitalize on the increasing price of milk volume and components.
Read More
Topics: ANIMAL NUTRITION