Milk and Milk Protein prices are going up, with prices projected to hit a four-year high. Now, more than ever, is the time to feed Energy Booster™ products to capitalize on the increasing price of milk volume and components.
Energy Booster™ products increase both milk volume and components. Proven results include:
More milk produced
More pounds of fat and protein shipped
Minimal to no effect to dry matter intake
"Class III milk markets had an amazing day with October milk closing limit up 75 cents at $19.16/cwt. November followed closely behind adding 50 cents and December was also up 37 cents. First quarter 2020 markets lept 23 to 38 cents per cwt and second quarter closed 17 to 22 cents higher. Class IV markets harnessed the strength in Class III and grew 13 to 22 cents in the fourth quarter of 2019 and first quarter of 2020." - milkbusiness.com
DRIVERS OF TOTAL MILK CHECK PRICE:
The total milk check is currently being driven by Protein, as Protein has appreciated 105% since January of 2019. Butterfat, the historical driver of the milk check, has stagnated.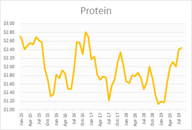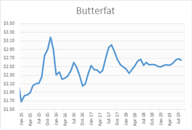 Source: usda.library.cornell.edu
The appreciation of protein has driven a rise in both Class III and Class IV milk. Class III milk has increased 26% since January of 2019, and is currently at a 56 month high. Class IV milk hit a 55-month high in July 2019.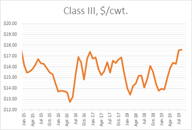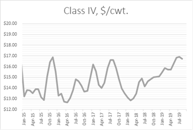 Source: usda.library.cornell.edu
Mailbox price is up 8% since January and is expected to continue to climb.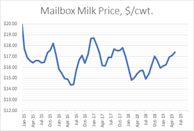 Source: usda.library.cornell.edu
Topics: ANIMAL NUTRITION